I'm remembering the Jacaranda Festivals of my childhood at Grafton in northern New South Wales, with a certain nostalgia. Did such a time of innocence really exist? Is this celebration different today?
Below is a photo from my sister's album of her, Susan, and our little sister, Jill, folk dancing with school friends at the Grafton Jacaranda Festival in the fifties.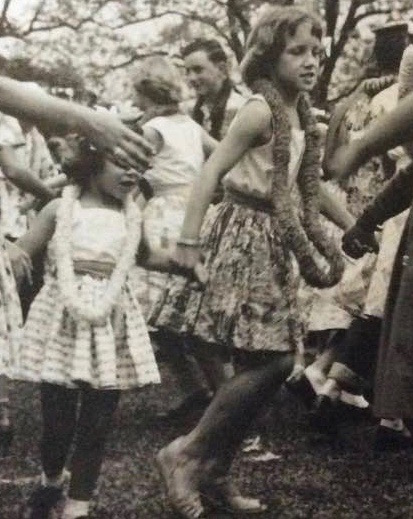 This annual spring-time celebration begins at the end of October and lasts until the first week in November. It has gone on since nineteen thirty-four, and was the first such folk festival in the country.
The Grafton Jacaranda Festival  is in full swing in my hometown as I write this post. It is a spring celebration that is held every year during the first week in November. At this time, the jacaranda trees are in full bloom.
Some childhood memories are golden. Or, in this case, mauve, lilac, purple, and, as Dad once said, "heliotrope". It's hard to pin down the actual colour of the flowers that bloom on the jacaranda trees, and form carpets of blossoms on the surface of the roads and avenues. Sometimes they seem lighter hued, mauve in my memory, at other times, darkly purple.