From the Hall of Fame at the North Sydney Pool:
"The North Sydney Pool was, in its heyday, one of the most advanced olympic facilities in the world".
"It was designed by the architectural firm Rudder and Grout in a style of art deco that has been termed "stripped classical". A great deal of attention was paid to detailing: the choice of tiles, the polychromatic brick work, and the plaster decorations. The most obvious references to classical form were in the stylised column capitals and the original pool tiles, which evoked the Roman bath house."
"The pool completed an extraordinary trio of structures on the Milsons Point waterfront. It was built in 1938, five years after the construction of the Sydney Harbour Bridge, and three years after the opening of Luna Park. Situated between the monolithic grandeur of the Bridge to the east, and Luna Park with its playfulness to the west, it has borrowed some of the features of these two icons in its architecture.
The Sydney Harbour Bridge to the east was completed in 1932. Luna park, to the west, was opened in 1935, with its entrance framed by miniature Chrysler Buildings. The pool was designed with the style of these sites in mind. The Bridge pylons are echoed in the stepped detailing of the pool facades. The playful plaster frogs, seagulls and swordfish, originally whitewashed, point towards the extreme funny feature of Luna Park.
The Pool, therefore, sits perfectly between the serious and monolithic Bridge and the fantastical absurdism of the amusement park."
"Together these three structures form one of the most significant art deco precincts in Australia."
A positive aspect of living on the north shore was being close to the North Sydney Swimming Pool. I no longer live on the north side, of Sydney Harbour, but I cherish the memories of having spent two years there, especially of swimming and lazing in the sun at the Olympic Pool.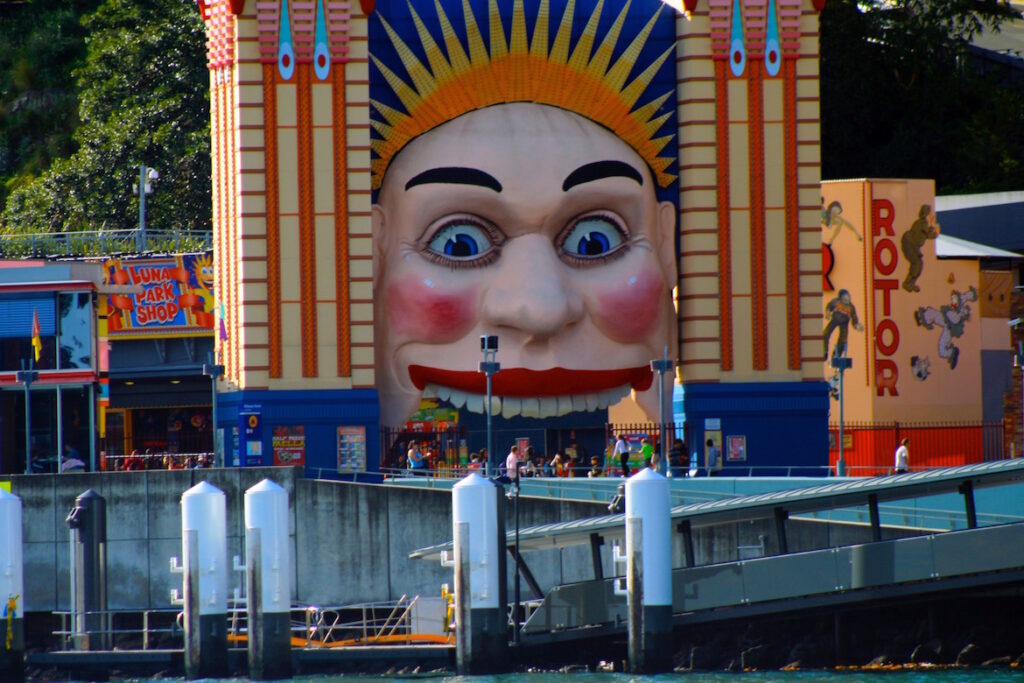 In the 1950s up until the 1970s, many famous Olympic swimmers trained here. There's a hall of fame with names such as Lorraine Crapp, Dawn Frazer, John and Ilsa Konrads, and Shane Gould enshrined there. It was on or near this site, too, that the Australian Crawl was first developed in the harbourside Lavender Bay pool.
The Pool was designed in an art deco style that can be defined as "stripped classical".
The original indigenous inhabitants of this land, the Cammeraygal, were described as a very powerful people. They used to paddle across the Harbour to the present-day site of Farm Cove to perform initiation ceremonies. One of these was recorded to have occurred in 1795. The Cammeraygal survived the worst effects of the disease that wiped out a lot of the indigenous population in 1789. However, by 1800 traditional social structures had been profoundly changed by colonisation.
Check this link out: Things to do near Milson's Point