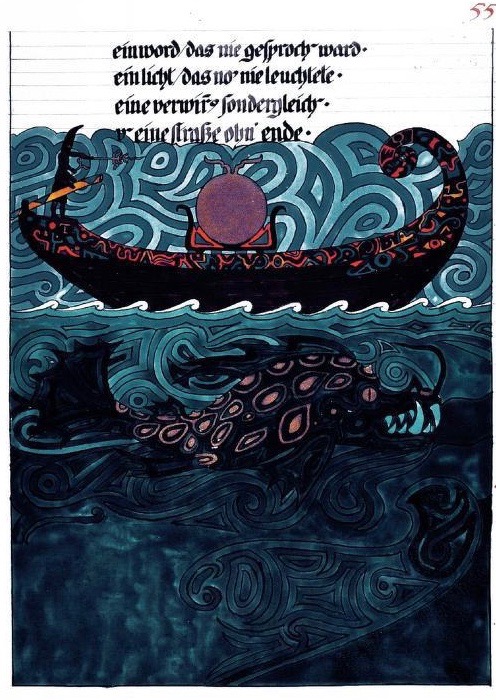 Dr Stephens spoke well, contacting the audience and keeping my attention throughout. I was even inspired to ask a question at the end. In this lecture, the speaker introduced material from Jung's biographical work Memories, Dreams, Reflections, and from the posthumously published The Red Book, a beautifully presented and hand inscribed book of Jung's encounters with visionary figures during his 'active imagination'  explorations.
This book was published in 2009 to much acclaim from Jungian scholars and psychologists, as well as followers of his analytical method of treatment.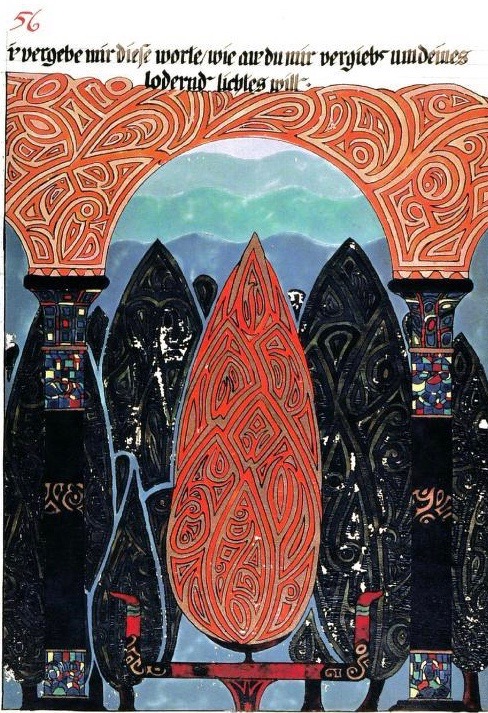 The speaker tried to give us a glimpse into Jung's method of Active Imagination, which is based on the subject envisioning dialogues between oneself and different parts of the psyche. It is the method Jung used for descending into the unconscious where he contacted figures from the depths that formed the basis for all of his main writings on the Collective Unconscious and his later analytical psychological method for treating patients.
The Red Book is a large leather‐bound folio manuscript creatively crafted by Jung between 1915 and about 1930. It recounts and comments upon the author's imaginative, visionary experiences after his break with Freud and the beginning of a period of  creativity and emotional dislocation. Despite being named as the most important work, and central in Jung's oeuvre, it was not published or made otherwise accessible for study until 2009. It is an unfinished, personal and spiritual account that was, and still is, at odds with the atheistic and scientific direction of society. Jung's family were concerned that it might not be accepted positively by the public, and kept it locked away until ten years ago.
Stephens based her lecture around significant dates relevant to Jung and this work:
1899-1900: Jung attended séances with his cousin Helly as medium, but abandoned them when he discovered anomalies and possible subterfuge in the procedures. However, he went on to write his doctoral thesis based on his witnessing these events, which were very popular at the time, especially in his hometown of Basle.
1902: His PhD was awarded from the University of Zurich for his thesis entitled: On the Psychology and Pathology of So-Called Occult Phenomena.

1907: His first meeting with Freud takes place in Vienna, when they converse for thirteen hours straight, having much in common. However, Jung's different perspective on the implications of the Eros function, and his interest in the occult will, ultimately, separate them for good.
1909: Jung resigns his post at the Burgholzli Psychiatric Hospital and, during this year, he also visits the USA with Freud.
1911: His cousin Helly dies from tuberculosis in her early thirties. Jung is more and more interested in the psychology of the unconscious. The first Death Dreams begin the following year.
1913: The break with Freud occurs, and Jung's first visions of 'Rivers of Blood' spreading throughout Europe begin. The war starts the following year, validating his intuitive visions. A period of personal uncertainty and disorientation begins for Jung. He explores what he calls the realm of the dead, through descending into the unconscious. However, when he asks Ezechial, one of the figures he meets in the underworld, if he might accompany him and others on a pilgrimage to the Holy Land, Ezechial replies: 'You cannot join us; you have a body, but we are dead.'
Dr Stephens took us on a brief journey, exploring Active Imagination in a session with our eyes closed. Like Ezechial, she warns that getting in touch with the Unconscious Realm requires a mentor to lead us there, or at least the use of advanced meditation techniques. Utilising this method of Active Imagination, that Jung managed to perfect, he conjured up figures from the imagination that he was able to dialogue with. The Red Book, according to Stephen A. Diamond, is a very personal record of Jung's complicated, tortuous and lengthy quest to salvage his soul, and a first-hand description of a process that would later fundamentally inform Jung's approach to treatment that he called Analytical Psychology.