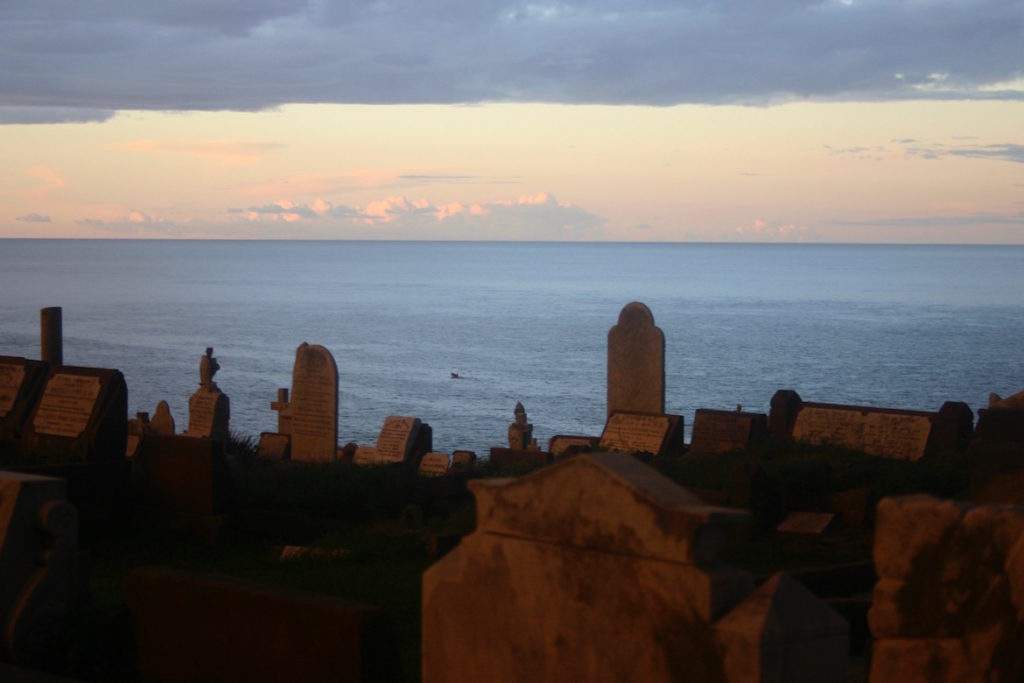 I'm lying in bed feeling sorry for myself when I receive the message from Kitty's granddaughter. It's ten days since I caught this virus from, guess who? my significant other. The first flu I've had for years and, guess what? It went straight to my newly 20/20 vision eyes…  Just after having cataracts removed. Yes, nowhere else but there! Until today, when I felt nauseous and knew it wasn't from "you know what"…  Perhaps the tummy ache is a good sign, the last kick of the virus before it leaves for good…
Positive—bitter/sweet—things have been happening, too. A granddaughter of a long deceased relative has got in touch with my sister and me to find out about her ancestors, especially her grandmother, my great-aunt, Kitty Walker. The photo above is of Kitty performing in a musical The Absent-Minded Beggar from my brother's genealogy book A Little Bit of Irish (William Skyvington).
This person who got in touch via my brother in France, I'll call  "Catherine".  She is the daughter of Kitty's daughter—Kitty's granddaughter. Let's call Kitty's daughter "Meg": she was brought up in a Catholic orphanage in Sydney. Meg died quite young, after getting married and having a family, including Catherine.
The photo of Mum and Dad with Nancy was taken at about the time poor little Meg was being put into the orphanage at age seven or so. She became a "work horse" for the nuns, according to Catherine. The child in the photo is my mother's younger sister. She would have been about the same age as Meg at the time. Kitty was Mum's aunt, the younger sister of my grandfather, Charles Walker, both of whom I never knew.
Kitty must have had the child Meg late in life, possibly in her forties.
No one in the extended family seemed to know about this at the time I was growing up in South Grafton.
It's great when you feel a past hurt is able to be soothed a little by your actions. What hurt, you might ask? Some people in my extended childhood family refused to give answers when the adult woman, Meg, came begging: not for money, but for information about her family tree.
"This Kitty ended up in the gutter!" was, I imagine, the gruff utterance from the dairyfarming uncle, and "the daughter's no doubt from the same litter, only wants a handout from us."
It all boils down to ignorance and to shame. This withholding of information leads to more ignorance and false assumptions further down the track. Yes, there was alcoholism in our family tree, but the shame was so much greater in this case, because the sufferer was female. Thank goodness I experienced the coming of the Women's Liberation movement!
Emotional problems and alcoholism, are often linked, being signs of an amazing gene—or a cluster of genes—shared by many creative people like Kitty Walker: the artistic ones!
So it's back to Ancestry searches and telephone calls for us, to try to fill in some missing gaps. What we know so far:
Kitty Walker, born 1886 in Grafton NSW, Australia, was artistic and a singer, and helped the campaign to get Sir Earle Page elected into parliament. She had a vibrant social life before, perhaps, becoming addicted to alcohol at the hotel where she lived. She was brought up by her aunt, who ran the Walker's Hotel in South Grafton. Kitty worked there as a barmaid for some time. That is where she met her future husband, the father of the child, Meg. Only recently have my newfound cousin, Catherine and I, discovered where Kitty Walker lies buried in an unmarked grave at Matraville Cemetery.
Catherine has since visited  Walkers' Hotel where her grandmother lived and worked. She had a sense of Kitty's presence when she stayed there, and was able to glean some more information about her ancestor from staff.
The widowed publican, Kitty's aunt, used to send men home to their wives if they had drunk too much.
We visited the cemetery where Kitty was buried, when Catherine came to Sydney, and we laid flowers on the grave.
Do not stand at my grave and weep
I am not there. I do not sleep.
I am a thousand winds that blow.
I am the diamond glints on snow.
I am the sunlight on ripened grain.
I am the gentle autumn rain.
When you awaken in the morning's hush
I am the swift uplifting rush
Of quiet birds in circled flight.
I am the soft stars that shine at night.
Do not stand at my grave and cry;
I am not there. I did not die.
by Mary Elizabeth Frye