The Narrative Arc
I have recently been researching diagrams to represent the Narrative Arc.  My memoir, based partly on childhood memories, needed to be restructured. I'm not one of these clever analytical writers who map out their story-line up front. Or is it, rather, that some genres are better suited to pre-planning, e.g. detective stories or thrillers?
One diagram, found on many writers' sites, (see above), is clean and simple, based on Freytag's Pyramid.
There are many examples of narrative arc diagrams—all originating, apparently, from Aristotle's ideas in Poetics—often with only minor variations.
Here is an example by a well-known Australian writer, Kate Forsyth.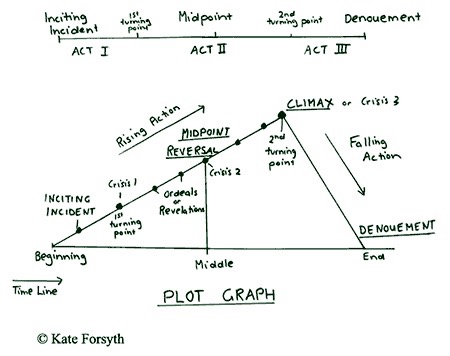 According to this diagram, there are seven main points to the structure of a short story or a novel: the Begining; the Inciting Incident, followed by a crisis; the Midpoint/Reversal ( 2nd Crisis); the Climax (Crisis 3) ; the Falling Action; the Resolution; the End.